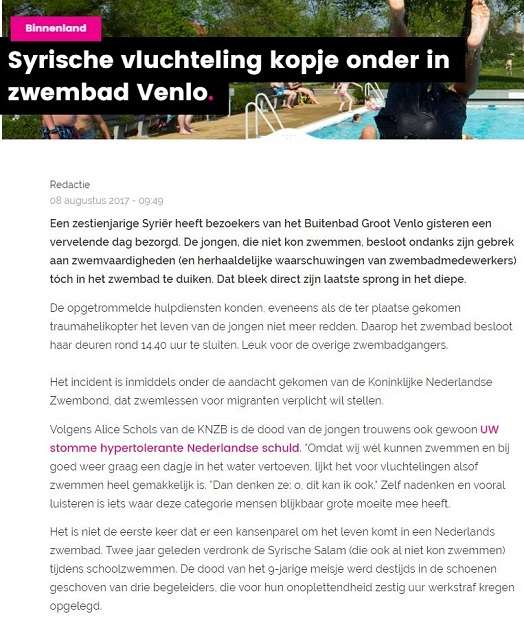 Op de website van Powned stond vanochtend dit schokkende artikel. Bij de eerste versie van het artikel werd ook nog de bekende foto van Aylan geplaatst, het Syrische jongetje dat verdronk bij zijn reis naar Griekenland.
Powned is onderdeel van de Nederlandse Publieke Omroep, gefinancierd door de Nederlandse regering. Het artikel wordt door de hoofdredacteur van Powned, Dominique Weesie, afgedaan als een incident. Maar de bezoeker van de website van Powned weet wel beter. Zo schreef Powned vandaag in een ander artikel: 'In islam is het 1 dag per jaar offerfeest, en de andere 364 dagen slachtofferfeest' en noemde een vrouw die in een boerkini zwom 'goor' omdat ze door haar boerkini het zwembad zou vervuilen.
De vraag die bij dit soort teksten in je opkomt is: welke medewerker van Powned zou in staat zijn om zonder met de ogen te knipperen de onlangs door de Nederlandse regering gelanceerde participatieverklaring te ondertekenen? De Nederlandse normen en waarden die hierin staan beschreven, zijn namelijk nogal in tegenspraak met de normen en waarden van de redactie van Powned. Zo staat er letterlijk in de participatieverklaring:
'Wat iemand doet of zegt mag nooit in strijd zijn met de wet. Je mag
bijvoorbeeld niet iemand met opzet beledigen, discrimineren of aanzetten tot haat.'
Het minste dat je kan zeggen is dat er sprake is van 'met opzet beledigen.' Niet incidenteel maar structureel. En dat leidt weer tot de vraag: hoe kan een omroep die de in deze participatieverklaring beschreven Nederlandse normen en waarden verwerpt, toch subsidie ontvangen van de regering die deze verklaring heeft laten opstellen en uitdraagt?
Deel dit artikel via je Facebook of Twitter timeline: