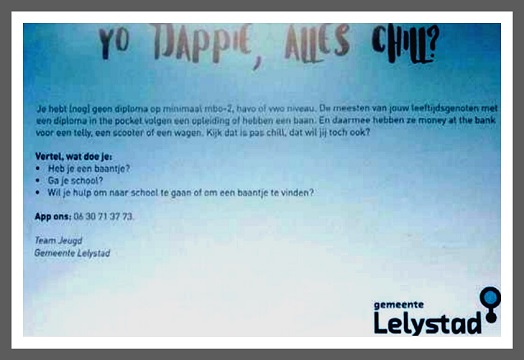 TransCity, een van de bureaus achter dit EtnoMarketing-platform, krijgt de vraag met enige regelmaat van adverteerders: 'We willen de taal van de jongeren spreken'.
Uitzonderingen daargelaten, raden wij dat de meeste adverteerders af. Je moet je boodschap brengen vanuit je eigen kracht, vanuit je eigen authenticiteit, en je niet anders gaan gedragen zodra je jongeren wilt bereiken. Natuurlijk moet je dicht bij de belevingswerelden zien te komen van de doelgroepen die je wilt activeren, maar het moet wel geloofwaardig blijven.
Omroep Flevoland laat vandaag zien hoe het niet moet. Zij berichten over een brochure die de gemeente Lelystad onder (een weliswaar kleine groep) jongeren verspreidde met teksten als: 'Yo tjappie, alles chil!' en 'De meesten van jouw leeftijdsgenoten met een diploma in the pocket volgen een oplelding of hebben al een baan. En daarmee hebben ze money at the bank voor een telly, scooter of een wagen. Kijk dat is pas chill, dat wil jij toch ook?'
De gemeente Lelystad wordt weggehoond: jongeren en sommige ouders vinden de brochure denigrerend en stigmatiserend. Bovendien kan 'tjappie' niet alleen 'dude' of  'kerel' betekenen maar ook 'lomp' of 'stom'.
Enkele maanden geleden sloeg uitzendbureau Manpower al een vergelijkbare flater met hun vacature 'Doekoe verdienen met bagage tillen op Schiphol'. 'Effe gymen met die koffers en doekoe verdienen. Je kan naar fissa's gaan, batra's halen en die gucci riem.'
Deel dit artikel via je Facebook of Twitter timeline: