Volgens voetbalcoach Gert-Jan Verbeek zijn er in ons land nauwelijks werkplekken met een gevarieerdere personeelssamenstelling dan de kleedkamers van voetbalteams. Meer dan welke andere bedrijfstak ook, lijkt voetbal mensen met verschillende etnisch-culturele en religieuze achtergronden dichter bij elkaar te brengen.
Uit een peiling onder de websitebezoekers van het AD bleek dat de meerderheid van de AD-websitelezers tijdens het komende WK het 'Nederlandse' Marokko steunt. En vrijwel alle grote Engelse voetbalteams wensen hun supporters tegenwoordig een gelukkig Eid ul Fitr en Eid al Adha.
En hoewel we de racistische en antisemitische spreekkoren die we geregeld vanaf de tribunes horen, niet moeten bagatelliseren, zien we dit seizoen een heel nieuwe dimensie van hoe voetbal mensen met verschillende achtergronden dichterbij elkaar brengt.
In Liverpool is het afgelopen half jaar een nieuwe ster opgestaan. In de zomer van 2017 tekende de op dat moment bij het Italiaanse AS Roma voetballende Egyptenaar Mohamed Salah een vierjarig contract bij Liverpool FC. Tot op heden heeft hij dat contract beloond met zo'n dertig doelpunten. Mohamed is de nieuwe held van de Liverpool-fans.
En dat leidt tot een nieuwe en wel heel bijzondere 'chant', zoals alleen voetbalsupporters dat kunnen:
"Mo Sa-la-la-la-lah, Mo Sa-la-la-la-lah, if he's good enough for you, he's good enough for me, if he scores another few, then I'll be Muslim too, he's sitting in the mosque, that's where I want to be."
De magen van sommige politici zullen ervan omdraaien.
Zie hieronder enkele social media reacties: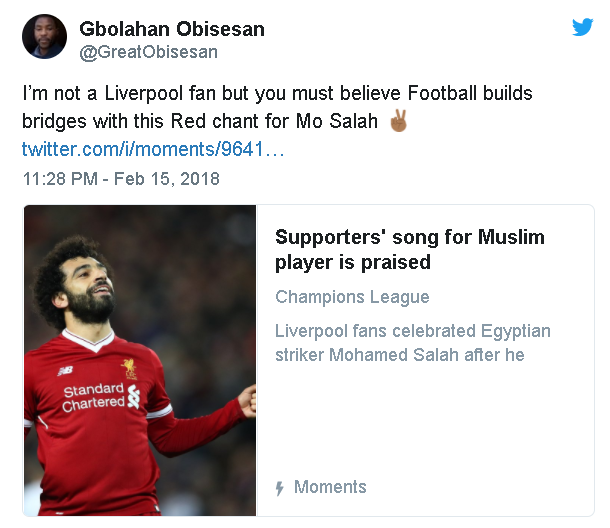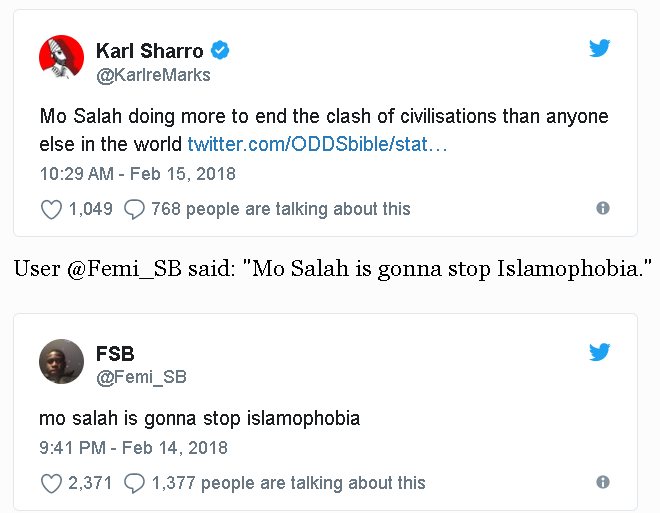 Deel dit artikel via je Facebook of Twitter timeline: